CNC Turning
When you need precision CNC turned parts at the most competitive pricing, fast lead times, and without requirements for minimum order quantity, Teknic may match the capacity your project demands exactly. The instant manufacturability feedback offered by Teknic professional technological team allows to optimize your part designs for the CNC turning process and fulfill all requirements you need.
At Teknic, you can experience the incredible CNC lathe services and receive high-quality turned metal or plastic parts for rapid prototyping or small-to-large volume production. Start your project with an instant quote.
CNC turning (also known as CNC lathes) is a subtractive manufacturing process in which a stationary cutting tool removes material by making contact with the spinning workpiece to create the desired shape.
During processing, a blank bar of stock material is held in the chuck of the spindle and rotated with the spindle. Extreme precision and repeatability can be achieved under the control of computer instructions for the movement of the machinery.
When CNC turning rotates the workpiece in a chuck, it's generally to create round or tubular shapes and achieve far more accurate rounded surfaces than CNC milling or other machining processes.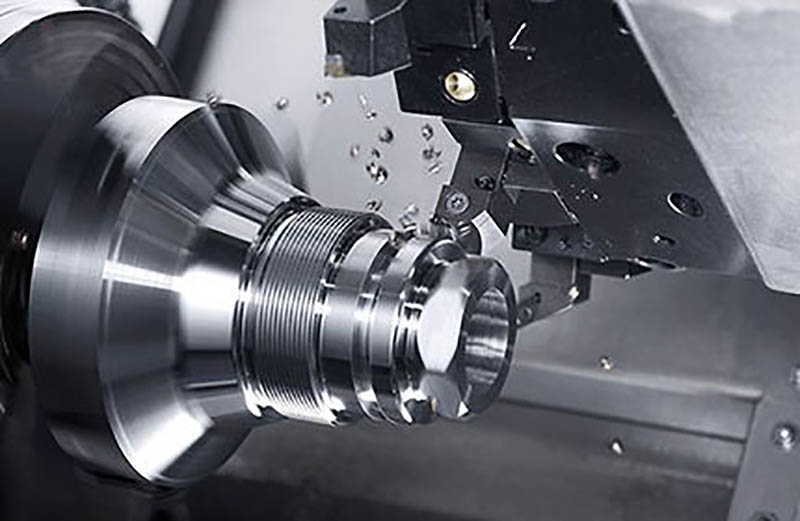 Turning Typical Tolerances
The table below summarizes the recommended values and essential design considerations to help to improve cosmetic appearance, enhance part manufacturability, and lower overall production time.
Type

Tolerance

Linear dimension

+/- 0.025 mm




+/- 0.001 inch

Hole diameters (not reamed)

+/- 0.025 mm




+/- 0.001 inch

Shaft diameters

+/- 0.025 mm




+/- 0.001 inch

Part size limit

950 * 550 * 480 mm




37.0 * 21.5 * 18.5 inch
Available Surface Treatment Options
Surface finishes are applied after milling and can change the appearance, surface roughness, hardness and chemical resistance of the produced parts. Below are the mainstream surface finish types.
| | | | |
| --- | --- | --- | --- |
| As machined | Polishing | Anodized | Bead Blasting |
| Brushing | Screen Printing | Heat Treating | Black Oxide |
| Powder Coating | Painting | Engraving | Plating |
| Brushing | Plating | Passivating |   |
Why Choose Our Custom CNC Turning Service
Get instant CNC quotes by simply uploading your design files.
We will quote the price in 24 hours.
We strictly implement a quality management system to ensure consistent, expected quality on the products. Full inspections also make sure you receive precision machined parts devoid of unwanted defects.
Not only do we have a digital CNC machining services platform that provides faster ordering process, we also own domestic workshops and state-of-the-art machinery to accelerate the production of your prototypes or parts.
No matter where you are, you can get our 24/7 engineering support all year around. Our experienced engineer can provide you with the most appropriate solution to your part design, material selection, and surface finishing options and even lead time.
Frequently Asked Questions
Turning involves a process where CNC lathes cut the bar of stock material into circular shapes. The workpiece is placed in the lathe and rotated while the tool removes the material until only the desired shape is left.
Turning is an ideal choice for producing cylindrical parts, mainly using round bar stock, but square and hexagonal ones can also be used.
CNC turning is a method for making symmetrical cylindrical parts. Typical examples are shafts, gears, knobs, tubes, etc. CNC turned parts are usually applied to various applications and industries like aerospace, medical, automotive, and other industries.
CNC lathes are usually two-axis machines with only one spindle. Their production capacity is not high, and there is usually no protective casing around the machine. A CNC turning center is a more advanced version of a CNC lathe, with up to 5 axes and more general cutting capacity. They also provide the ability to produce larger volumes, often integrating milling, drilling, and other functions.
We can serve more than 10000 pcs of different prototypes monthly, no matter the part with simple or complex design. We own 60 CNC machines and have more than 20 experienced technical experts.